Guide: Setting up your image bank with Brandox
Brandox began as a response to the frustrations involved in working with brand materials. Specifically how messy and time-consuming it often is to find the files you need when you're in crunch mode for a project.
To address these issues, we designed Brandox around the idea of keeping things as simple as possible, so you could get started with better brand organization almost instantly.
Here are a few of the simple, but powerful, features we've integrated into the platform to help you easily manage your image bank.
Unlimited users
All Brandox plans allow for unlimited users. This means that you'll never have to pay per seat like many other (super expensive) platforms on the market.
Having unlimited users means you have the flexibility to add everyone who needs access to your images without worrying about additional costs.
Visual previews for multiple file formats
Brandox is designed to be a visual platform. We support previews for the majority of image and graphic file formats Including:
JPG
PNG
EPS
SVG
TIFF
AI
PSD
Bonus: We also show previews of videos. You can also embed videos from YouTube and Vimeo in addition to uploading videos directly to Brandox.
Labels and Tags
When you upload files to Brandox, we automatically pull basic metadata such as filetype, filesize, color space and resolution. We also give you the option to add additional labels and tags that will help you organize the photos.

Later on, you can use the built-in filter to quickly fine images using the automatic metadata and the labels/tags you've applied. Labels/tags can be edited at any time.
Bonus: For users on our Pro and Enterprise plans, you can also make bulk edits to labels/tags using the multi-asset menu.
Drag & drop
The Brandox interface is designed to make uploading and organizing as quick as possible by using drag & drop. To upload images, select the images in your server/hard drive, then drag & drop them into the upload window.
Once images are uploaded to Brandox, you can also reorganize the order of the images using drag & drop. The preview cards displayed aren't fixed in place, so you have total freedom to move them around according to your needs.
Built-in share tool
Brandox gives you options to share your images with whoever needs them. Make your brand page public and your images will be available publicly for the world to see (and download).
But you can also share selected files through the Brandox share tool.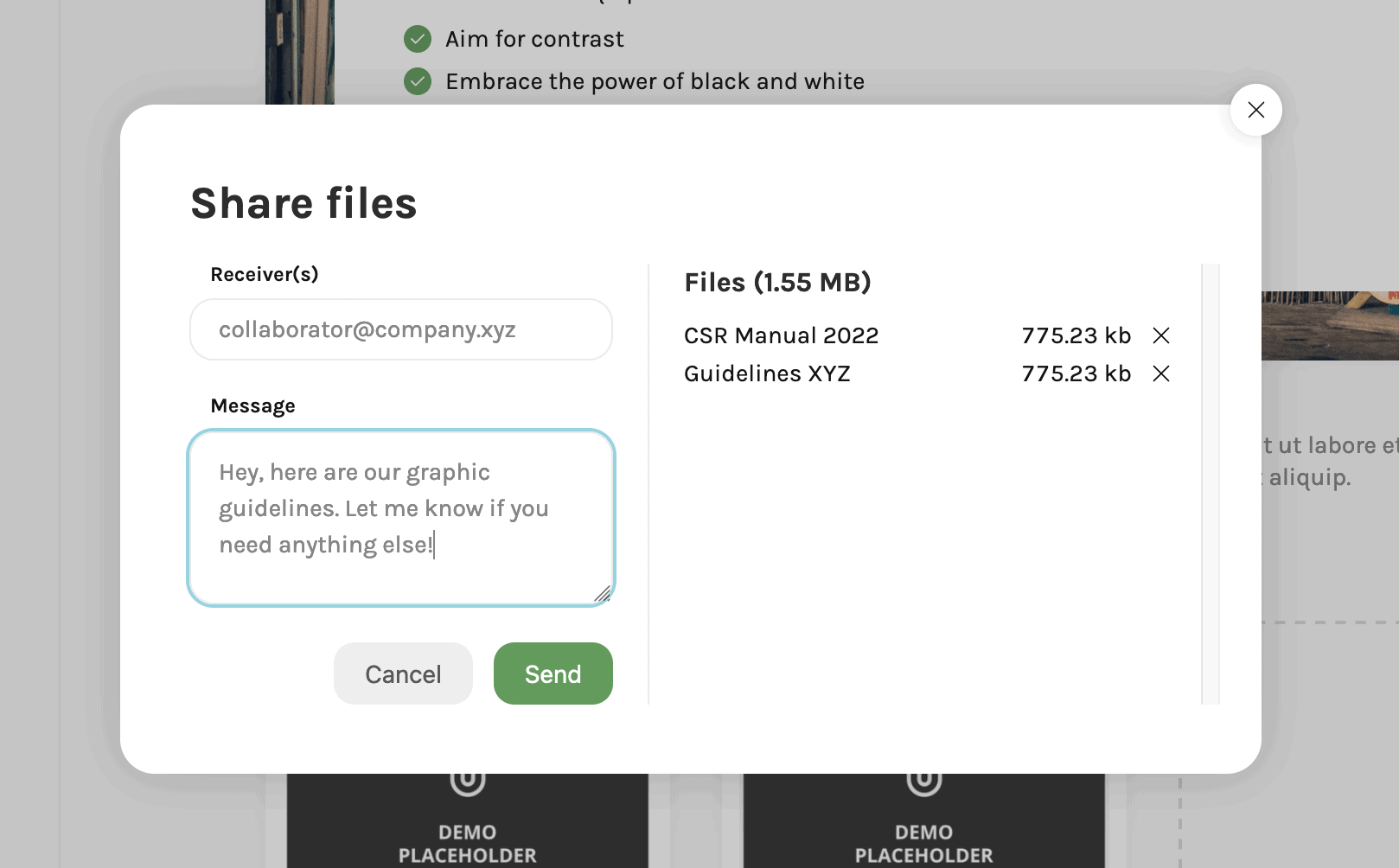 Select the images you want to share, type in the email address of the recipient, add a message (optional), and click Send. You can send as many images as you want without worrying about file size.
The recipient will get a link that allows them to download all of the shared files at the same time.
Bonus: Each image uploaded to Brandox has a unique URL. Anyone with this URL will be taken directly to that image in the brand page.