How can I use Brandox for Remote Team Collaboration?
As organizations deal with rapid digitalization and a switch to remote work, many are evaluating how the tools they use can help them work more efficiently. Brandox is designed to help marketing and creative teams stay organized no matter where they are.
Here are some tips to help your remote team get the most out of Brandox.
1. Create a structure from the very beginning
Brandox is built to help you get organized immediately. However, it's still a good idea to have a clear idea of the organization of your sections and subsections.
Decide how you want to organize things before you start uploading files. Of course, you can easily move things around after your files are on Brandox, but it helps to have a clear idea before everything is hosted on the platform.
2. Use labels and tags to make things easier to find later
Brandox allows you to filter your files based on the tags and labels you give them. Add tags as you upload files to make it easy for everyone in your team to find the right files exactly when they need them.
3. Add users with the right permissions
Brandox allows you to have unlimited users but the key to utilizing this is to make sure all users have the permission level that corresponds with why they need access to the page.
SuperAdmins: Users who need full access to the brand page, including adding or removing other users, updating
Editor: Users who need to update and share assets on the brand page.
Viewers: Users who only need to acces files.
In addition to users added to a single brand page, you can also add subscription admins. Subscription admins can edit billing information and update the subscriptions' plan.
4. Use content blocks to tell other users exactly how to use assets in each section
Let your team know exactly how to use each asset directly on the brand page. Content blocks help you provide useful information other page users need to get the job done right in a visually striking way.
You can add background information about the files in each section or best practices for using the files properly. Remember you can easily edit these at any time.
See a live example here: https://www.brandox.com/demox/brand-identity-guidelines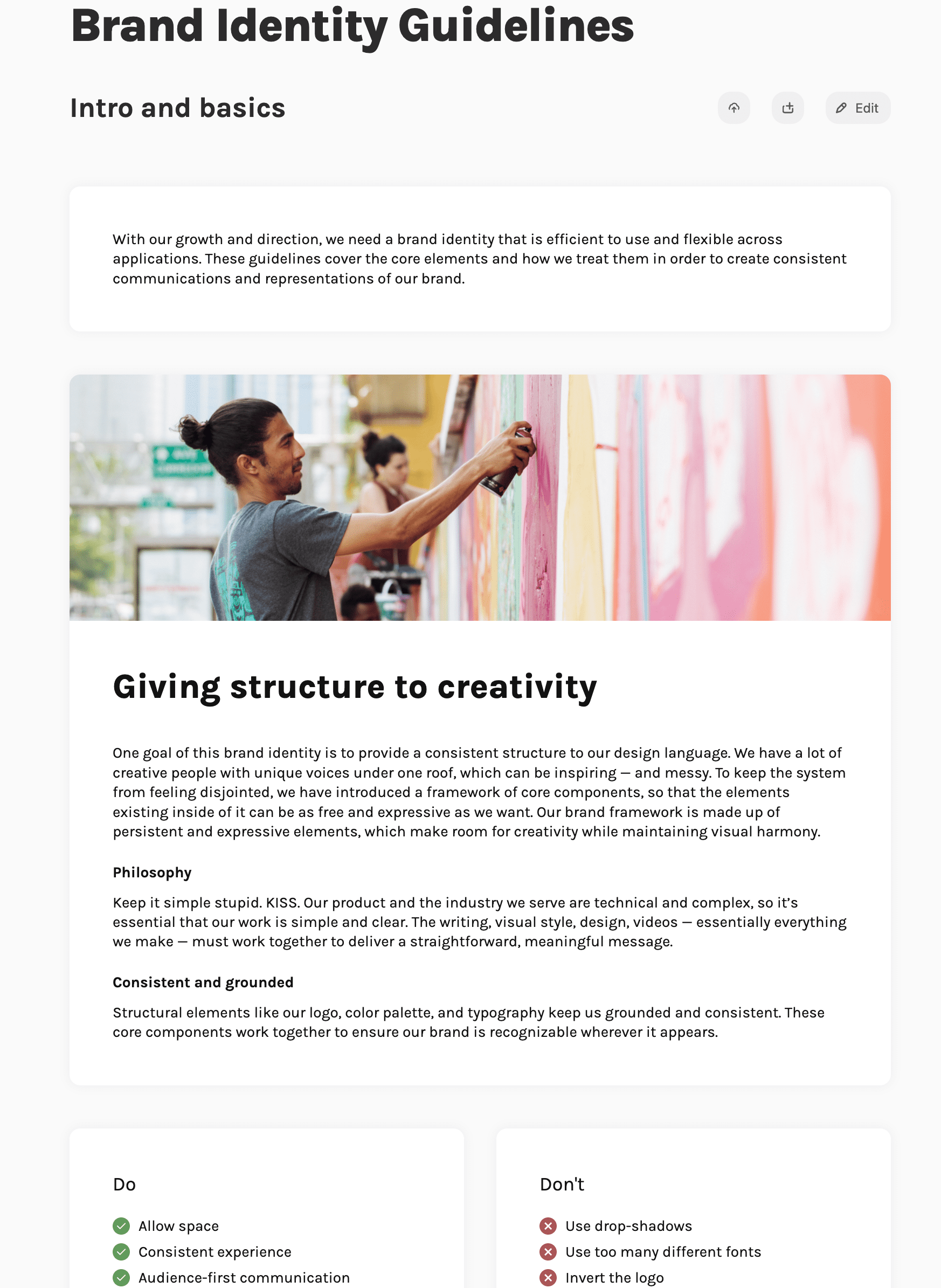 5. Give users access to the materials that are relevant to their work
Too much info at once can be overwhelming. This also applies to brand materials.
Our Pro and Enterprise plans give you additional control over what sections users can see and access, and can create users groups. Utilize advanced permission levels to lock page sections from non-admin users.