Guide: Using Brandox as an internal brand hub
One of the reasons we created Brandox was to make it easier for our users to have a centralized location for their brand materials. Sometimes this is referred to as a "source of truth".
Having a source of truth helps people within any organization understand exactly where to go to find the brand files they need. It also allows the people in charge of those materials to create structured access to the files to ensure brand compliance. An added bonus is it helps cut down on emails asking "where is this file?" Your email inbox will thank you.
Here's how Brandox can help you create a centralized brand hub to help your team.
Simplified access to the files you need
Brandox offers unlimited users on all plans. That means you can invite as many people as you need to without worrying about extra costs per seat.
There are 3 user levels in Brandox: SuperAdmin, Editor, and Viewer.
SuperAdmin users have full access to everything on a brand page as well as the page settings. Editor users can upload new assets and make changes to the assets hosted on the brand page. Viewer users can see and download assets on the page, but they cannot make edits or upload new assets.
Advanced access levels for Pro and Enterprise accounts
SuperAdmins on Pro or Enterprise accounts can determine which page sections are visible to other users using the advanced access level feature. When you edit a page section you can choose which users and user groups can access this section.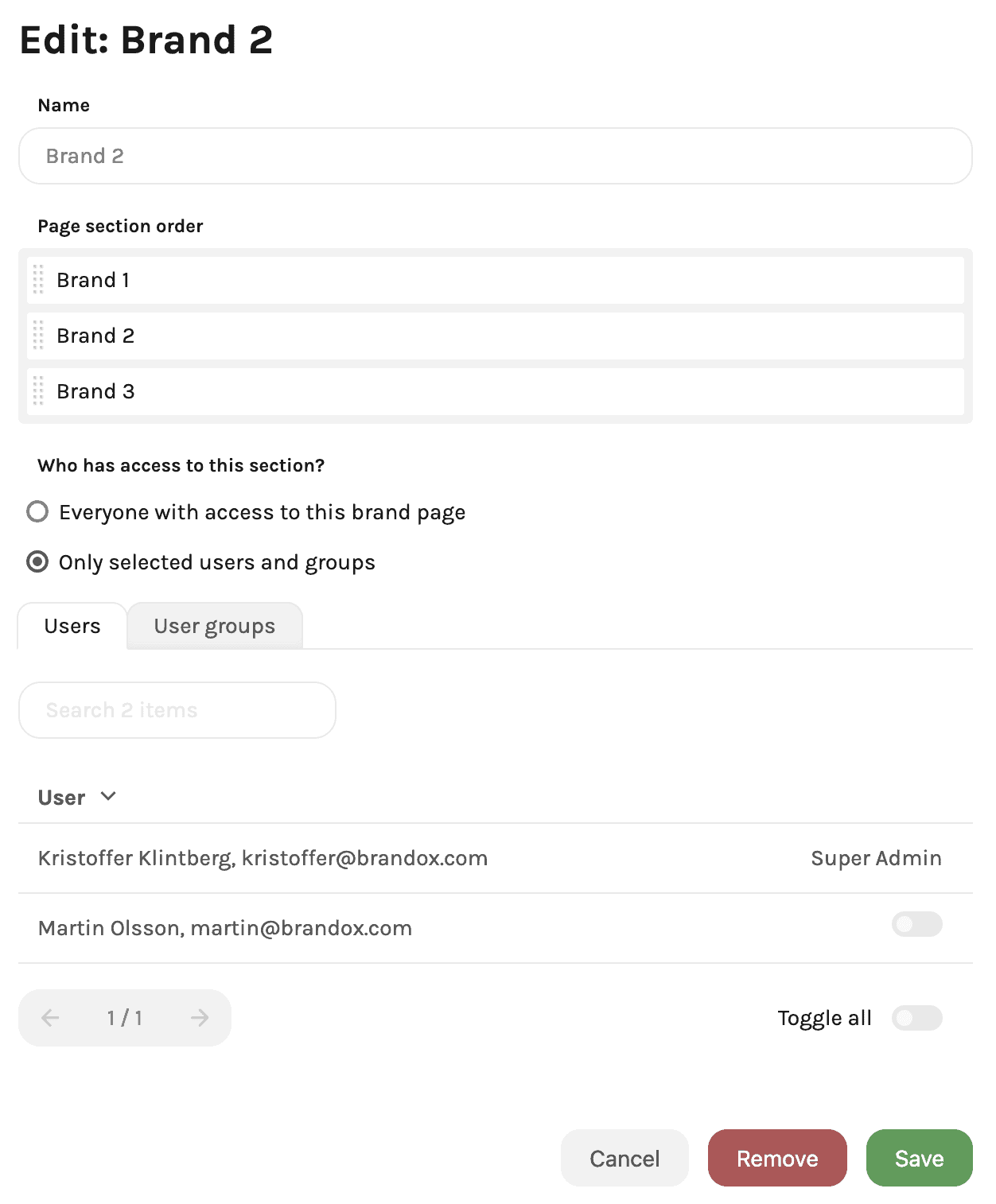 Host all your files in the same place
Brandox can host all file formats and displays visual previews for most image filetypes including TIFF, SVG and EPS. You can also view previews for uploaded Illustrator (AI) and Photoshop (PSD) files.
In addition to image previews, we also display previews of fonts and videos.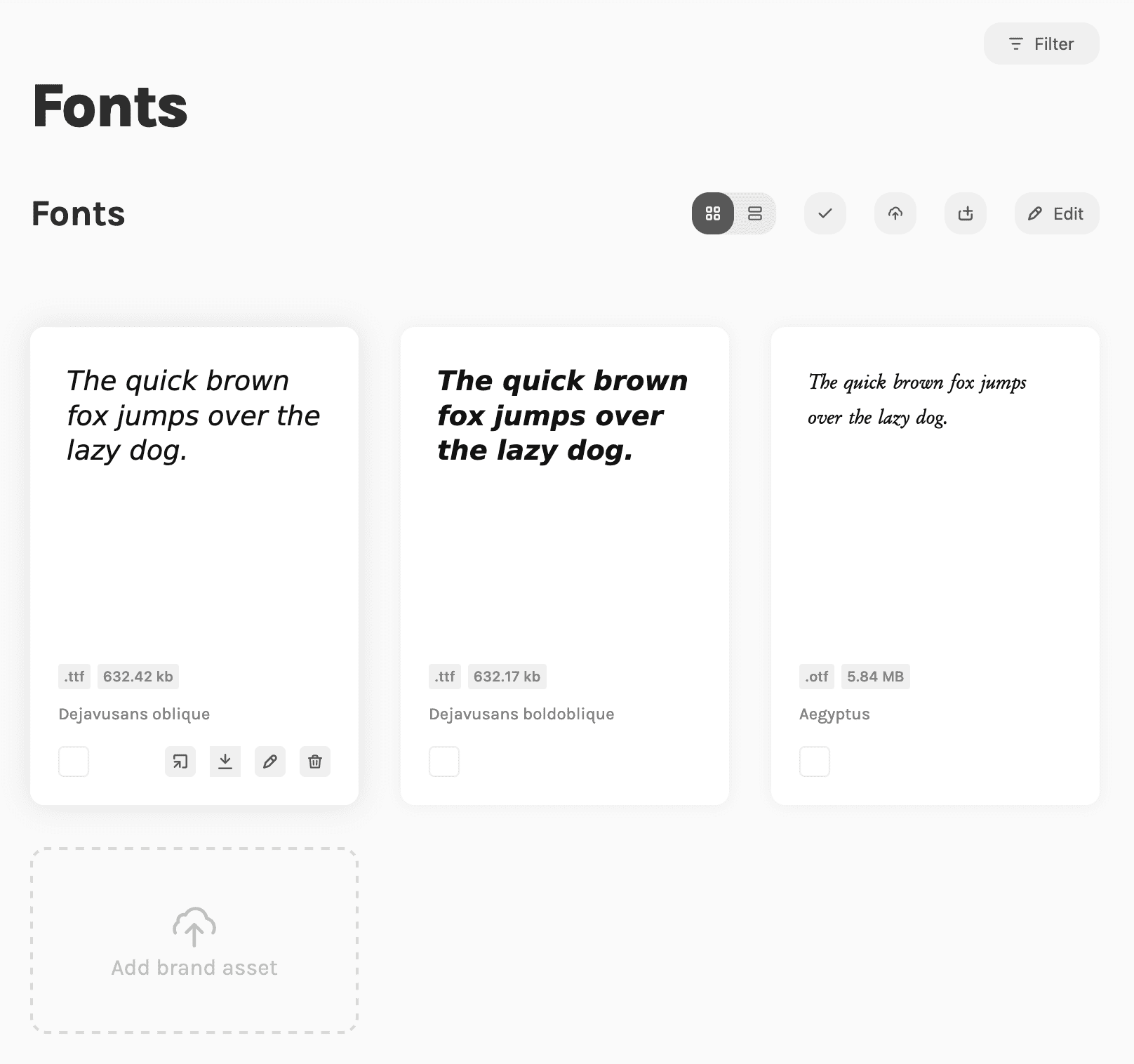 With no limits on the formats you can upload, you can keep everything safely stored within Brandox. You can even have multiple file formats in the same section for more flexibility.
What our users say:
"I always know where I can find my reference material for marketing, web, and all other publications. I used to have them all over the place, in different folders, as email attachments, or lost somewhere in cyberspace. the real cool stuff was the neat way to save color scheme, fonts and other essentials for my graphic profile."
– Victor, Experience Architect
Download files in different sizes and the most used file formats
To make it even easier for your team to work with the approved brand files, you can convert images to JPG or PNG before downloading.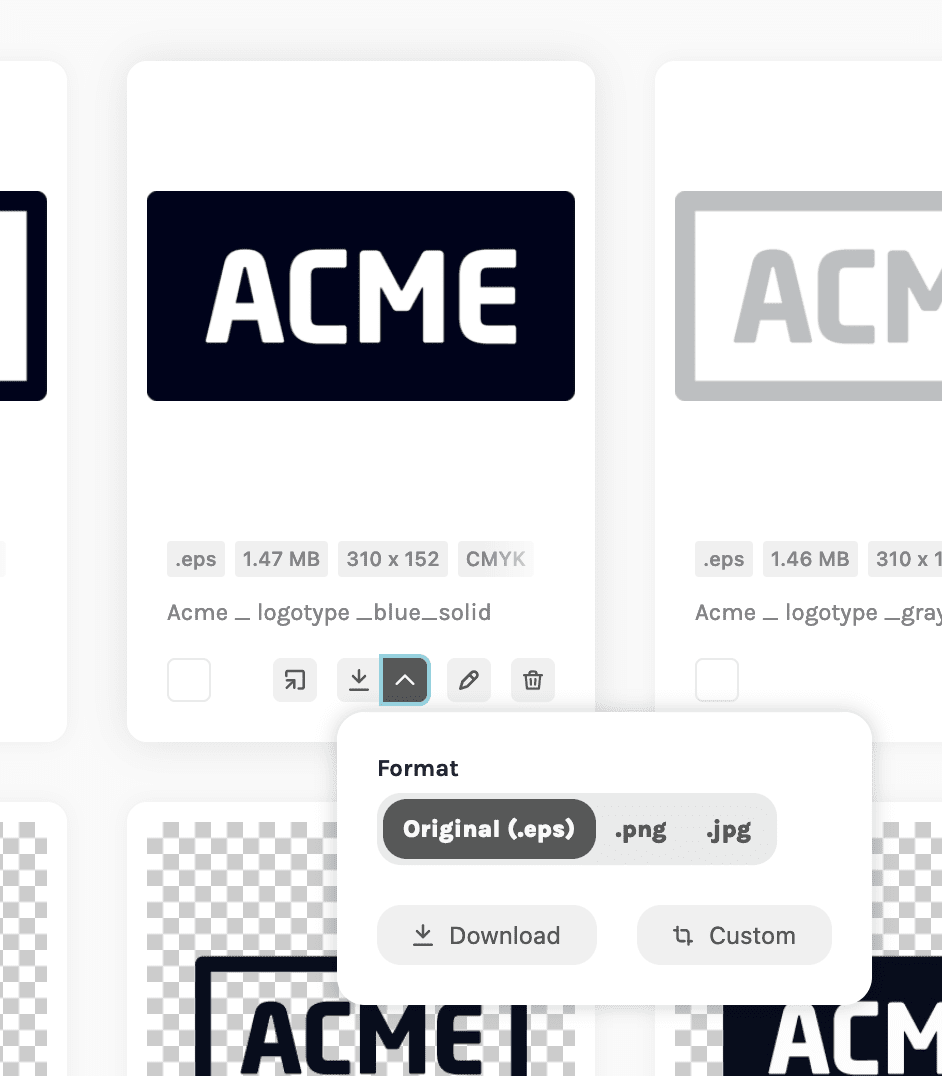 This cuts down on team members relying on out-of-date brand files because those are the only JPG versions available. This is especially helpful with PSD and AI if some of your users do not have access to Adobe products.
You can also choose to resize the images to the best size for whatever you are working on, including the standard sizes for Facebook, Twitter, Instagram, and LinkedIn.
Link to assets hosted on other platforms
Sometimes it's not possible to keep absolutely everything in the same place. Some files need to be hosted elsewhere.
To help keep everything organized, even files not in Brandox, add live links to your page to direct people to other resources without compromising your source of truth.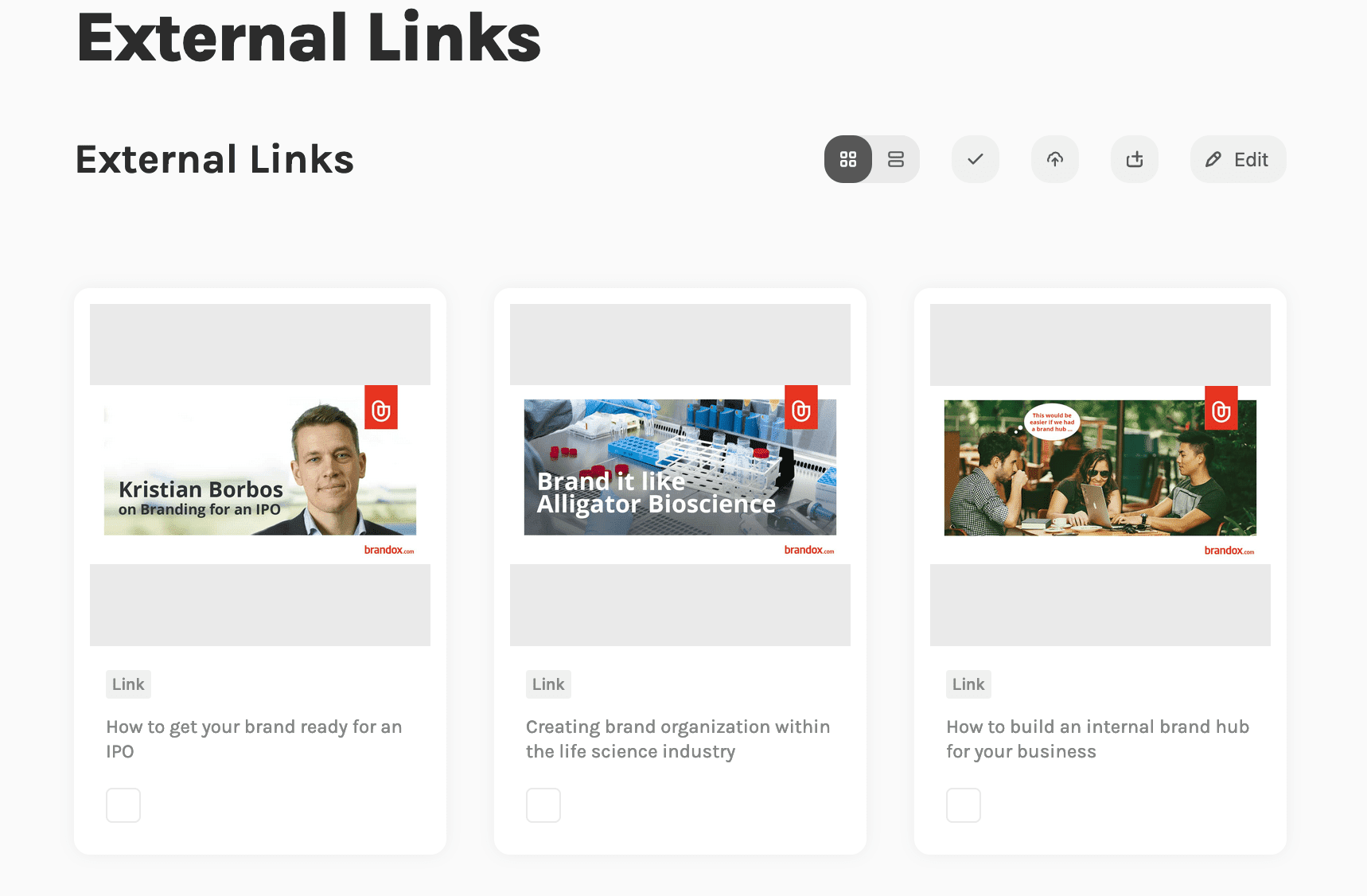 Tip of the iceberg
These are just some of the simple yet powerful features we've brought together to help you maintain an internal brand hub for your business. Above all, our focus is on keeping Brandox as simple to use for everyone who interacts with brand material.